Flirting with Filming
At the end of summer, I had this strange feeling that I needed to make a documentary. I had no idea how to do it. But my feeling was so strong that I sent an email to someone I knew was making one just to release the idea into the Universe. I am pretty free flowing. I will follow my gut and then if nothing comes of it, that's fine.
The person I emailed did not respond. Like I said, totally fine.
I'll have to look back for the exact dates. But a few days later, I received a series of communications from Veronica in quick succession – a text, an email and a call. She insisted she had exciting news. And she did! Moms Clean Air Force wanted to include the Belews Creek story in the their upcoming documentary. Wow! Yes!
I immediately went home and emailed a list of upcoming events that we had planned happening in the next couple of weeks. If they were trying to finish a nation-wide documentary prior to the election, we needed to get going asap!
I am so grateful that Dayna and Adams were able to film for two days around our Prayer Vigil for Good Neighbor Day. With most of our press events, we have the press. But we didn't this time, because, well, it was a prayer vigil. So I am grateful that someone was there to document it. I love this picture by Adams! Or Dayna. I was standing in the circle, so it's definitely not mine.
Spending the day sharing stories with Tracey was wonderful. Granted with the low cloud cover and the billowing outpouring of "steam" from the steam station, I had a muscle/heart spasm when Lucy woke me during her bedtime that terrified me. It was a scary reminder of all that we take for granted living far away from the shadows of the smokestacks.
Prior to the segment at my house, I thoroughly cleaned one room in my house. I carefully moved all of my collected birds' nests around as I dusted my mantel and the top of my piano. All of my best art was in the room and I knew that we were going to discuss my art as part of the filming. My studio was a wreck and completely off limits. And of course, my living room was the only room we did not film in.
When Adams saw my studio, he smiled and said coyly, "We are filming in here." I asked for some time and moved everything from all over the room next to the door where they placed the lights and cameras. I am slowly, but surely, recovering from filming. My hope is that the studio will be a fully usable space before we head to Florida. I am delivering unused art supplies to Lucy's school and updates on the students' excitement makes me heart flutter!
Around 2:30 during the filming, it was time to pick up Lucy. We were over halfway through of Day Two of filming. I was exhausted and elated. I felt like I had finally shared my entire story. I paused to ask, "So how long is this going to be?" "Three minutes." "What? Three minutes? I cannot believe it!" I mean I had made coffee and basically filmed in every room of my house! "That's as long as people will watch these days." I'm guilty of the same.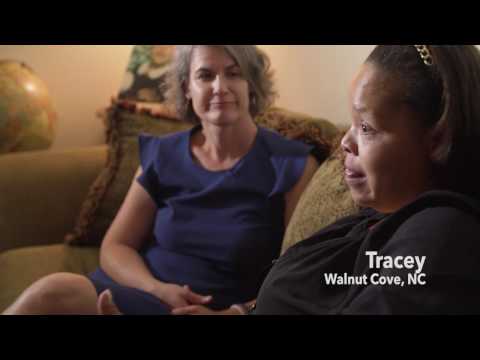 Here it is!!! Yay!!!! What a wonderful birthday gift! Right?
I can't wait to see the other three videos from The Story We Want Series. Pennsylvania's Moms share such a powerful story about fracking. It's one that we need to hear and share in Stokes County, as fracking still is a looming threat. To see the actual well pads and know that there are plans for twenty more??? What a tragedy.
This project completely satisfied that urge to film. I am still open to more, but I think that writing is way easier and requires way less stuff. Henry should be relived.
Thank you to Moms Clean Air Force and Dayna for including me in this project. If you are interested in hosting a screening at your church or part of a group, please contact Dayna to schedule a panel. Maybe I'll join you!