In Hope of 2015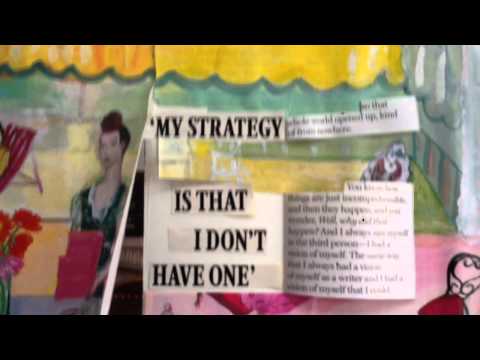 .
Before heading to Florida, I gathered up all of our old magazines that needed to be recycled, as prompted by one of Elizabeth Gilbert's FaceBook posts. She had made a collage for how she wanted 2015 to feel. Perfect. So that's what I did instead of the collection of unfinished art projects that I packed to complete prior to the ball dropping. I really got into this project. And as I placed the last star in its spot, I looked up to see Taylor Swift fumbling around. I jumped up to kiss Henry. Whew. Just in time.
Last New Year's Eve, my shoulders dropped from relief when we crawled into 2014. 2014 was better than 2013, but not stellar. Granted I had several highlights throughout the year, including showing my artwork in five different cities between July and November. It was very productive. I am grateful. But I was seriously burned out the week before Christmas.
Every few years including 2014, I circle back to a sales plan and kickstart the monkey in my mind. Finally by the end of December, I had a frank discussion with God. I hate sales. There are a million jobs in the world. I will do any of them that do not compromise my soul or family. But why sales? And production. I do not enjoy creating things just to sell them. So… I am stepping back from the CreativeLive classes and focusing more on collaboration in 2015. Hence, my strategy is that I don't have one. I am open.
And this is a video of how I hope 2015 will feel. Right now, our toes are chilly, but our hearts are warm.
I hope to submit an annotated version sometime soon.