Happy Birthday, Cat in the Hat!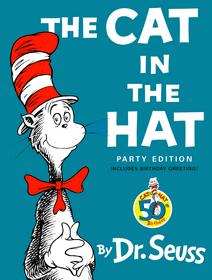 Send Cat in the Hat a birthday card and give the gift of literacy to young kids. For every card sent, Random House will donate a book to First Book, a non-profit that gives children from low-income families the opportunity to read and own their first new books. Designing your card is easy and takes less than three minutes. Have a little creative fun this morning for a good cause.
While working on my graduate school work, I learned that literacy is the foundation for creativity. Without books, children are less likely to learn to imagine the pictures in their mind that serve as the ability to be creative. So we need to get as many books into as many little hands as possible. Read more about the Literacy Crisis and take a minute to think about how you can help children learn to love books.
Here are a few ideas…
Mail a birthday card to Dr. Seuss
Donate to First Book
Donate your old children's books to your local literacy council
Give books as baby shower gifts and birthday presents
Organize your own book drive
Volunteer by treaching kids and adults how to read
Get in2books into your local schools