Everyone Has to Look Up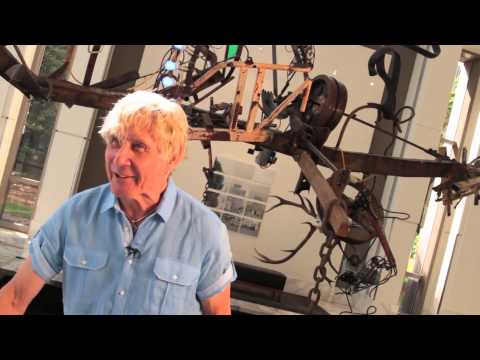 As I begin writing about Art and Play, I have started looking into the artists who inspired the project in the first place. The very first artist that I fell in love with during my graduate studies was Jean Tinguely. His work inspired my piece about Stockholm, which was the fifth or sixth in my Souvenir Series. Of course, in my mind, I wanted to create a huge wall piece with lots of spinning wheels. But I find that I whittle down details as I create my work. This went from a very large idea to a wearable one.
I love this video featuring Andreas Bechtler talking about Tinguely's final piece Cascade, which is found in Charlotte's Carillon Building. I never knew how Tinguely ended up in the Charlotte. But it is because of this great art patron and his family. The story of Tinguely finding hope in his final piece is quite inspiring. And it confirms what I had realized as I decided to dive back into writing about Art and Play. I had left out the possibility to interact with the Divine as part of the creative process. I now know that is a large reason behind why I create art, but maybe I didn't know that twelve years ago.
This beautiful quote from Tinguely references his experience of creating something in a cathedral in the woods:
I began to make something pretty original: I spent weekends, Saturday and Sunday, one after another, beside a stream, rigging up lovely little wooden wheels…Art never entered my head…I used a stream in a wood (forest), but I must point out that it was a pine wood, a kind of cathedral, and with a cathedral's acoustics… the sound was magnified fantastically. I built up to a dozen of these little wheels. They all turned at different speeds, and the speeds sometimes changed with the flow of the water. Every wheel had one cog…This one cog made the wheel rotate irregularly—as follows: it turned, struck a small hammer, which in turn struck small tincans of various kinds, some rusty, some not, and with different resonances. These sounds with their different rhythms were placed at intervals of between five and six meters, and sometimes the sound of the concerts carried for a distance of a hundred metros through the woods. Then I speculated whether somebody walking alone in the woods would be aware of the concert before hearing the sounds of the woods themselves. Sometimes the set-up went on functioning for several weeks. Of course it was bound to fall apart in the end, but some of the wheels went on running for months.
Extract from the National-Zeitung, Basle, (October 13, 1967). In Hultén, K.G.Pontus, Jean Tinguley "Méta" (Boston: New York Graphic Society, 1975), p. 6.

The dancing light from the new arrival of leaves on our tree reminds me of this story Tinguely shared. So nice to have you back.