a few of my favorite things: singalongs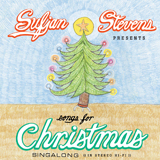 On the Monday after Thanksgiving, Henry came home with my first Christmas present of the season. He said that I could go ahead and open it. And I was thrilled to discover that it was a box set of Christmas music, entitled Songs for Christmas by Sufjan Stevens. Singalong is right there on the bottom of the set. I think that Henry bought it as a reminder of the ill-fated Little Drummer Boy we tried to record on his four-track many years ago. Actually we both love Sufjan's music and the included stickers and family portrait poster had to have sealed the deal.
I promised myself that I would save the music until December 1, because I find it necessary to really moderate when I start listening to Christmas music. I love it and I don't want to get sick of it. When I realized that Sarah and Shannon were coming over, I had to put in all five discs. You never know when we all might want to break out in song.
We were sitting there talking about really important things like high school and where to watch the WFU football game. All of a sudden they realized that we were in fact listening to the Christmas music I had emailed them about. After we passed a traditional hymn, Sarah began to understand some not-so-traditional verses and decided to recite them for us. Like beat poetry. Listen to the insightful words of Did I Make You Cry on Christmas Day? (Well You Deserved it.)
This time of year, you always disappear
You tell me not call, you tell me not to call
And when the door is closed,
You're wearing different clothes
Or hiding in the paper, pretending not to hear
Inexpensive wine, I buy it all the time
You tell me take it back
You say you'll take a nap
But I can see it now, you always tell me
How I could do so much better
You said it in your letter
Did I make you cry on Christmas Day?
Did I let you down like every other day?
Did I make you cry on Christmas Day?
Did I let you down on Christmas Day?
Verse 2…
Some are silly, some are somber, some are spiritual. What more could you ask for?
Shannon did recognize a song that the three-year-olds sang in her church Christmas pageant every year. She was quite excited about that. But they swore that Henry bought the set because he looks a lot like Sufjan. And I would even suspect that they have the same personality type. But I must say that his other albums showcase great examples of storytelling about a whole host of experiences that may lose their effect in prose. You should check out his work. Illinois is my favorite. But, Ryan, you need to get this set. It is perfect to throw in a little diversity to your annual Christmas mix.
The following night we quite the very end of the Holiday Parade of Boats in Old Town Alexandria. Thank you, Jason, for coordinating the lovely evening. After the parade had ended, we enjoyed the Christmas carols of a group performing on the dock. Everyone perked up with A Few of My Favorite Things. I believe some money was even donated! Now you will be humming that tune the rest of the day.
There are usually several opportunities to sing Christmas Carols in the Penn Quarter neighborhood during your lunch break. 12/20/2006 – Calvary, 777 8th Street NW 12:15-12:45
Please add any others in the comments section. I will continue to add them as I hear of any.
If you would like to have your own singalong at home, please download this free Christmas cootie catcher and song guide that I made a few years ago. I currently use it as a sample for my cootie catchers.